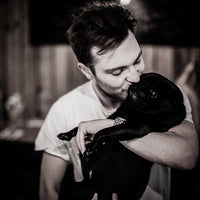 The Team
Alex started his career in the jewellery trade in 2003. Working along side his dad, Chris, he set out to learn the trade, then set up on his own shortly thereafter as he knew his character was not suited to being an employee. The tipping point for Alex was when he met Monty in 2014. Together they set out building an online jewellery retailer from scratch, Butter Lane Antiques, with the aim of becoming the world's leading social-facing antique jewellery brand. For 9 years , together they sourced and sold hundreds of pieces each month, shipping to every corner of the world from a stunning leafy Cheshire HQ.

Alex is active in every aspect of the business and is mainly responsible for the buying& strategy. He likes rap music, dogs & cooking, and spending time with his family. He lives alone with his baby pug, Nancy, in Manchester and plans to spend more time recreationally over in the States with his niece and sister-in-law who live in Austin Texas.

-------------------
Not many people know that Monty was also called Alex... but to save confusion all round he took a new name (inspired by Monty Don from BBC Gardeners' World, naturally). Monty studied Music Composition at Edinburgh University, before moving to Manchester where he met Alex and fell into Antique Jewellery. sadly monty left Buttter Lane in March 2023 he and Alex remain good friends and plan to do business together in the near future there is no love loss between the team. Alex continues to credit Monty for the success of Butter Lane and wishes him good luck with his future career

Monty was responsible for presenting the jewellery online, researching the histories, and the general running of the office. In late 2022 he launched a new collection under the Butter Lane umbrella - 'Monty's Collection' - the goal being to offer unusual oddities and curiosities at a more affordable price point (under $1000). his role has been filled by Hannah and her assistant Beth.

-------------------
Hannah, Alex's now right hand, studied Graphic Design at Manchester college , before joining Butter Lane Antiques in 2022. Hannah is responsible for presenting the jewellery online, researching the histories, and the general running of the office. she will soon take over monty collection Her mother, Christine, played a big part in Hannah's creative streak from childhood, after studying fashion design, Hannah was always made to feel involved in the creative process. In her spare time Hannah enjoys good food, fashion, music and, most importantly, Quentin Tarantino films.

THE STORY
Butter Lane Antiques was founded by Alex Alfieri, a thirty-year-old dealer assisted by his then right hand man, Monty. Alex has been surrounded by the antique trade his whole life, his father being a well known dealer in the trade, but the pair decided to take a fresh, new approach to the industry. With this in mind, the duo flipped the trade on its head, breathing new life into the antique jewellery world having found success with their defiant, unorthodox approach to the trade, championing social media as their ultimate tool for success.

The use of Instagram has led Butter Lane to where it is today and helped define its identity. Butter Lane's sustained strategy of consistently posting high quality imagery and videos of its antique jewellery three times a day has grabbed the attention of thousands, amassing over 110,000 followers and gaining a celebrity client base such as JK Rowling, Bella Thorne, and Hilary Swank.

Butter Lane trades predominantly online but sources acquisitions through the traditional dealing process.

In 2020 Butter Lane launched its podcast, Dealing, hosted by both Alex and Monty it tells the tale of an unusual and unexpected start up, taking the listener through the highs and lows of the trade. From gaining a huge audience on social media, encountering an armed robbery, selling to celebrities, and life saving surgery, the podcast captures it all. Dealing is the first time any jewellery professionals sit down and candidly discuss their trade - giving listeners the opportunity to discover the raw emotions of running such a business, allowing them to join the journey of digitalising a notable traditional industry. The podcast has been featured in the likes of Esquire and The Sunday Telegraph.

If you'd like to book an appointment please contact Monty at info@butterlaneantiques.com